Both China and Greece have ancient and splendid civilizations that ensure the people of the two nations have a natural affinity and can understand each other easily, according to a member of the audience who spoke after watching a musical drama on the theme of the Silk Road.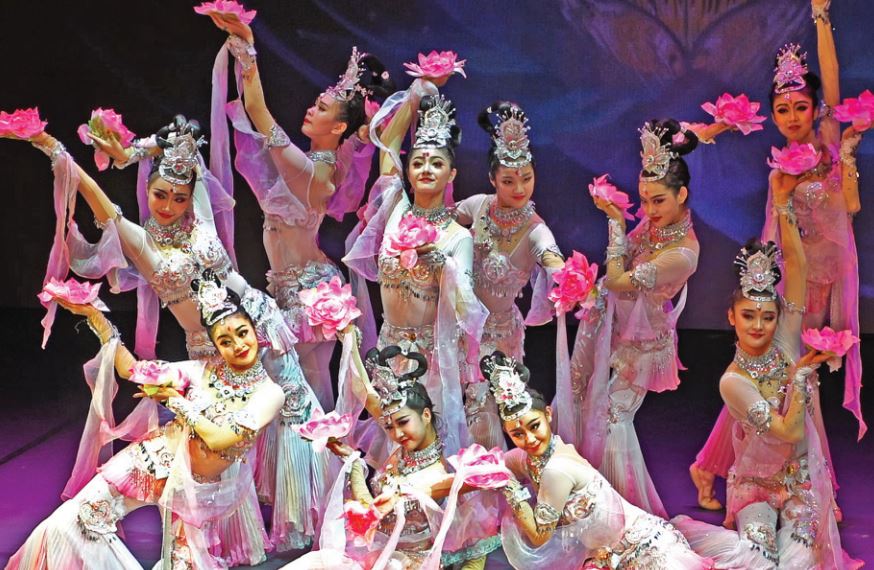 Chinese artists perform in Athens, Greece, on Tuesday. [Photo/China Daily]
The stage performance was jointly presented by China's State Council Information Office and China's embassy in Greece on Tuesday and attracted more than 700 people to the Pallas Theater in Athens.
The play titled Meeting Across Millennia: Cultural Interactions Along the Enchanting Silk Road comprises five parts that showcase different cultural characteristics of the ancient "Silk Road Stations" that included today's Gansu province, Xinjiang Uygur autonomous region, and parts of Central and Eastern Europe. The performances came in the form of songs and dances.
Ren Xiangqun, deputy director of the Human Rights Affairs Department of the State Council Information Office, said in her keynote speech that the Belt and Road Initiative was inspired by the ancient Silk Road, along which different cultures have communicated and coexisted for more than 1,000 years.
"Greece is an important intersection of the land and maritime Silk Road," she said. "It is also a model for European countries to carry out mutually beneficial cooperation with China and build the BRI together. China and Greece both have the faith of pursuing peace and development and have a mission of building a better world."
With gorgeous costumes and traditional Chinese musical instruments, artists from Northwest China's Gansu province demonstrated stories and scenes from the Dunhuang murals in their performance.
"It was wonderful, the costume, the music, the dance. I like it so much. This is why I came here," said Foteini Groutsou, a member of the audience. "We are the two oldest cultures in the world. We understand each other. We both have very difficult languages and we both love pork and good food, and we know how to share food on the table. This is in our culture."
Aliki Laonnidi, another member of the audience and a worker with Angelakos shipping company, said the performance was very interesting.
"It makes you want to learn more, and learn deeper about Chinese culture, and be more familiar with how people there live and think," she said."We need to have more cultural and intellectual exchanges between Greece and China because we both have very ancient civilizations, philosophy, and rich art and literature."
The cultural exchange activity toured Spain, Israel, and Italy before arriving in Greece. In addition to songs and dances, there was an exhibition of pictures and film screenings that show China's traditional culture and that carry the message of the benefits of a community of shared future for mankind.